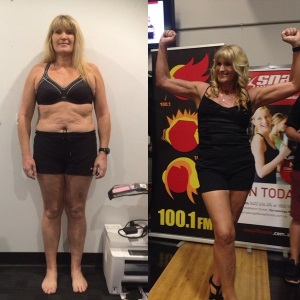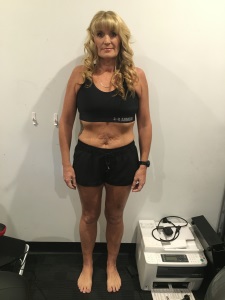 Anne came to see me for help to lose weight and to stop her sugar addiction. She had tried many diets over the years, shakes, Weight Watchers, Jenny Craig to name a few, she would lose weight at first only to regain it once she stopped the diet. She worked in an official position and was finding her work uniform too tight to wear because of the extra weight she had gained. She had travelled to Brisbane for a short holiday and decided to do the 4 session Hypnoresults Gastric Mind Band Program. She had the first session in my Brisbane clinic and the following 3 sessions were done a week apart on Skype when she was back home. At the first session Anne told me she felt lazy and had no motivation to exercise and was at the heaviest she had ever been in her life.
Three months later I received this email below from Anne.
Hi Lorna… I thought I would let you know how I have been doing.  As you know I was 93kg when I came and saw you and had sugar addiction I was struggling to combat. After our sessions finished I had lost 5kg in 4 weeks and not really dieting. This was great but I was finding it hard to get motivated to exercise but lucky for me I got selected for our local radio station for a competition which was an 8-week Weight Loss/ Transformation Challenge. Well I found the motivation all right and worked extremely hard especially towards the last couple of weeks training up to 2.5 hours every day.  
I was on a mission to win and ended losing a further 15.4kg weighing in at 73.5kg (starting weight was 88.9kg in the 8 weeks (losing 20.95% body percentage) and came runner up in the comp (not that I got a prize) and only lost by 0.85% (530 grams) however all my effort was still rewarded as I helped our team win the competition so we won a 12 months' gym membership which is fantastic.
I was so happy with my results as I had dropped a few sizes and lost 12cm around my stomach alone.  I believe your sessions helped me to get through this competition with such ease as I never had cravings, stuck to my Hypnoresults healthy eating plan and never strayed, worked hard to exercise and have finally completed something that I had started for once without dropping out or giving up.  I don't believe I could have done this by myself and feel grateful to have found your Hypnoresults hypnotherapy sessions as an answer.  This is not a temporary situation either as I feel confident to want to continue this new lifestyle as I have actually enjoyed being this active and healthy for the last couple of months. And admittedly I am on a 10-week weight loss challenge while doing the 4-week transformation program which I will probably extend for another 8 weeks. I appear to now be addicted to be healthy, fit and happy.
Thank you so much for everything and I have also recommended a couple of people I know and my sister is also spruiking to her friends about my amazing weight loss journey and has asked for your details to pass on to her friends and hope they contact you too so you can help change their lives too.
Kind regards
Anne Bryant
Disclaimer: (Results are not guaranteed and may vary from person to person).